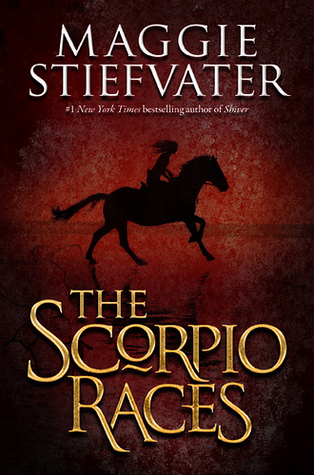 Synopsis (from Goodreads.com): It happens at the start of every November: the Scorpio Races. Riders attempt to keep hold of their water horses long enough to make it to the finish line. Some riders live. Others die.

At age nineteen, Sean Kendrick is the returning champion. He is a young man of few words, and if he has any fears, he keeps them buried deep, where no one else can see them.

Puck Connolly is different. She never meant to ride in the Scorpio Races. But fate hasn't given her much of a chance. So she enters the competition — the first girl ever to do so. She is in no way prepared for what is going to happen.
My Review:
The Scorpio Races is beautiful. It is breathtaking, enchanting, ensnaring, bitter-sweet, and beautiful. I already had high expectations for this book, and as always with Maggie's books, it rose above and beyond them. I will say that it wasn't what I expected at all, the main reason being I had no idea what water horses are. That was resolved rather quickly, though.
It was written in present tense, like The Hunger Games, so it was like I was right there in the story, rather than being told a story. It was also written in two different perspectives, like Shiver, so I got a good look into the minds of both the main characters, Puck and Sean. To top it all of, it was beautifully written:
"Her expression was fierce and uncompromising, full of the intrepid bravery of a small boat in an uncertain sea."
How can you not fall in love with that? What I loved the most about this book was the way Maggie painted pictures with her words. It was perfect.
The Scorpio Races is a stand-alone novel. I didn't want it to end, but I did like the way it ended a lot. As usual, Maggie managed to ensnare me with her words. As usual, I can't wait for her next novel! Here are some links you can check out if you're interested: