Hey everyone! I don't know if you noticed, but I am featuring a new button on my blog! It's actually right there, on my sidebar ------>. The button consists of a picture of leaves, and the words "Falling Into Books Blog Hop." Just in case you can't see it, I'm posting it here as well: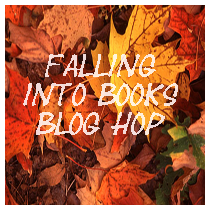 If you click the pictured button, it should take you to
Oh! For the Love of Books!
The underlined blog title will also take you there if the said button for some reason doesn't work. So this blog hop won't start until September 26th but will go through September 30th. What I will be giving away will be announced on the 20th of September, so keep an eye out for that post. I'm not sure of the exact number of other people participating, but I know for sure that Oh! For the Love of Books! is participating, and also The Bookworm Is Here! More information should be forthcoming quite soon, I expect.
That's all for right now, so thanks for reading and keep an eye out for the giveaway hop!